France and Islamic Extremism: How to Deal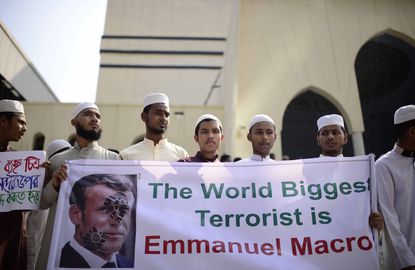 Dr. Gauri Shankar Gupta

Fight against extremism is a herculean task. But for now, Macron needs support of freedom loving nations in this fight against intolerance and extremism.
  France is on high alert. Killings by the Islamic extremists are once again on the rise. On October 29th, three people were killed in a knife attack in Notre Dame Basilica in the heart of Nice in Southern France. One of those killed was the caretaker of the Basilica. Two Islamic extremists were also caught in Avignon and Lyon. Criticizing the attack, Mayor of Nice Christian Estrosi spoke of "Islamofascism". French Prime Minister Jan Castex described it a "very serious challenge that is striking our country". Last week a school teacher Samuel Paty was beheaded after a lesson on freedom of speech to his civics class involving the cartoons, after he showed his class caricatures of the Prophet Mohammad published by the satirical magazine Charlie Hebdo. His killer, 18-year-old Abdullakh Anzorov, was shot dead by police shortly after the attack. Anzorov, was born in Moscow and his family is from Russia's Muslim-majority Chechnya region in the North Caucasus. He had lived in France since 2008. Soon after Paty's killing police raided some 40 homes and the Pantin mosque north of Paris was closed after it emerged that it had shared a video on Facebook calling for action against Mr Paty. In his tribute to Paty, French President Emmanuel Macron said "We will continue, professor, we will defend the freedom that you taught so well and we will promote secularism, we will not renounce caricatures, drawings, even if others retreat, we will continue the fight for freedom and the freedom of which you are now the face." Paty was also bestowed posthumously, France's highest award, the Legion d'Honneur. Macron denounced a trend of "Islamist separatism" that flouts French rules and seeks to create a "counter-society" holding its own laws above all others.
    Meanwhile, tensions between Turkey and France are rising. The French-Turkish feud has been brewing for weeks, with Macron cracking down on Islamic radical groups and calling Islam a religion "in crisis" while the Turkish President Recep Tayyip Erdogan declaring in his response that Macron needs "mental checks." As the feud over the Charlie Hebdo cartoons continued, Paris recalled its ambassador from Turkey in protest. Subsequently, as the verbal duel intensified, Erdogan called for a boycott on French good. Further escalating the tensions, last week's edition of Charlie Hebdo featured a caricature of Erdogan mocking his person. Erdogan's spokesman described the image as "despicable" and a part of "anti-Muslim agenda." Earlier, Macron had accused Turkey of escalating the conflict between Azerbaijan and Armenia over the disputed Nagorno-Karabakh region. He said French intelligence had showed that Turkey had sent a group of Syrian mercenaries to help Azerbaijan. Recently the two countries also had a tiff over the drilling of gas off the coast of Cyprus. Meanwhile, several Islamic countries including Egypt, Iran, Pakistan, Malaysia and Saudi Arabia have condemned Macron accusing him of insensitivity to Islam. On the other hand, several European and other countries including India, Germany, UK, Italy and Russia have condemned the rising intolerance, Islamic extremism and personal attacks on Macron. Under Kemal Ataturk, Turkey was one of the promoters of secular values. In a U turn, Erdogan's Turkey is openly engaged in promoting Islamic extremism. Erdogan is recklessly engaged in pursuit of leadership of the Islamic world. Turkey and Pakistan have now become collaborators in exporting Islamic extremism and Jihadi ideology to third countries. Freedom and tolerance are being replaced by intolerance, threats and brutal killings in the name of Islam – which is described as a religion of peace.
    Given its colonial past, Muslims in small numbers have been living in France for a long time. However, the larger numbers started arriving in France in 1960s when the government started giving asylum to Algerian migrants. Thus, since early 1960s the number has gone up constantly. France has roughly 6 million Muslims constituting about 8.8% of total population.  Most of these are from Algeria (17,00,000), Morocco (12,00,000), Tunisia (4,00,000) and Turkey (5,00,000). Then there are some converts and some from Asian nations including Pakistan and Bangladesh. Many of these migrants have tended to concentrate in specific geographic regions and have benefited from state support in social and religious policy. They have also taken advantage of the vote bank politics. However, some of them are still poor and live in ghettos in the vicinity of Paris and Marseille. In the last three decades, Muslims have emerged as the second largest religious group; even ahead of Protestants and Jews who have been part of the French society for centuries. Although, currently France follows a Zero Immigration Policy, the number of Muslims is rising due to high birth rate and illegal entrants. During the recent crack-down it has become clear that several mosques, an underground network of Salafist hard-liners and some fundamentalists are fanning hatred and are propagating violence against "non-believers." Since 2015 when the first attack by Islamic extremists on Charlie Hebdo had killed 12 people, over 350 French citizens have been killed in a series of terrorist attacks by Islamic extremists. In 2015 alone 181 persons (including 130 in a deadly attack in Paris in November) were killed in Islamic extremist attacks. In the southern city of Nice where three persons were killed on 29th October, a Tunisian truck driver had driven a truck into crowds celebrating Bastille Day on July 2016, mercilessly killing 86 innocent people. In the last week of September this year, a man from Pakistan had stabbed two people near Charlie Hebdo's former office in Paris. Over 1700 French nations had joined the ranks of Islamic State in Syria and Iraq.
    Successive French governments since the 1980s have tried to create a brand of Islam particular to France, with the dual objective of integrating the country's Muslim minority and fighting Islamic extremism. The goal has been to create an Islam that both conforms to national values, notably the French concept of liberté, égalité, fraternité and laïcité, and is immune to the radical interpretations that have gained a footing in certain parts of the Muslim world. It has been stipulated that Muslim preachers must complete their training in France. All children, including Muslim children, must attend state-registered schools from the age of 3. Foreign Islamist hard-liners have been deported, and cultural and religious associations which tolerate violent preachers in their ranks are strictly monitored. French President Emmanuel Macron unveiled a new plan last week to defend France's secular values against radical Islam, announcing stricter oversight of schooling and better control over foreign funding of mosques. Associations, which receive state funding, would be made accountable for their spending and their leaders would be forced to reimburse misused funds. Community associations that receive state subsidies will have to sign a contract avowing their commitment to secularism and the values of France. Fight against extremism is a herculean task. Only the time will tell on the efficacy of these measures. But for now, Macron needs support of freedom loving nations in this fight against intolerance and extremism. International community must come together to bring an end to state sponsored terror and extremism, if the democratic values and fundamental human freedoms are to survive.
(Writer is Former Ambassador/High Commissioner of India)