Abdullah, Mufti, China and Pakistan Nexus, A threat to National Security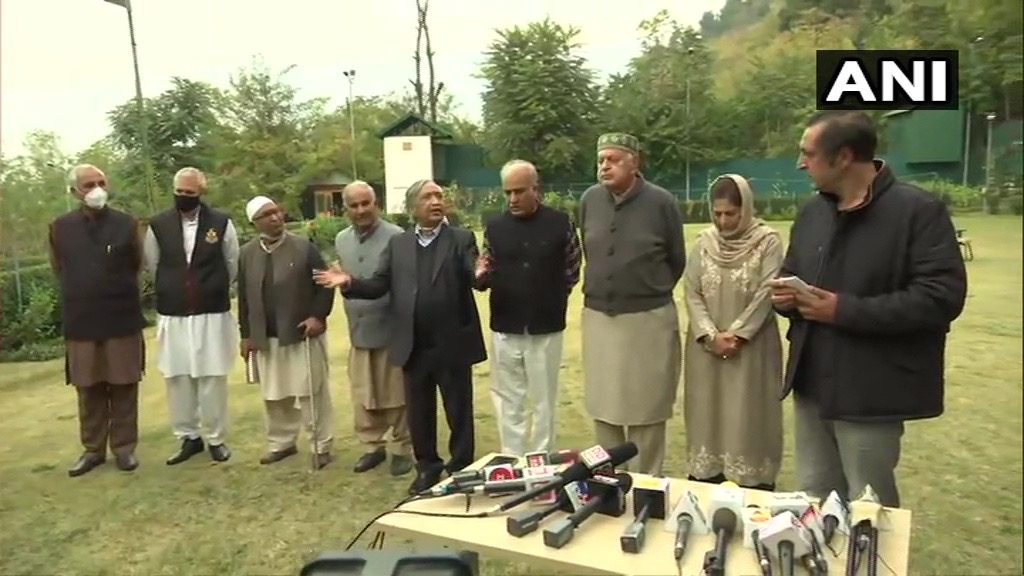 Colonel Dev Anand Gurjar

Its time to shed the policy of appeasement and taking hard decisions to deal with the  Gupkar brigade or any kind of their sympathisers .

Post seditious statement in a TV interview where in "with the support of China" work towards  revoking  Article 370 on 15 Oct 20, Farooq Abdullah, National Conference (NC) chief held a meeting and announced formation the 'People's Alliance' comprising of six political parties seeking restoration of Article 370 as it applied to Jammu & Kashmir prior to August 5, 2019.  A follow-up of the 'Gupkar Declaration' of August 4, 2019 signed by J&K political parties less BJP at the Gupkar Road residence of Farooq Abdullah.
On September 24,  he said if you ask people of J&K whether they are from India they will say no and as also in past, the same Abdullah had said the "POK doesn't belong to your father that you can take it back,"  In an recent interview, Abdullah noted that China was not happy with the abrogation of Article 370, which was scrapped in August last year by Parliament.
The recent seditious/anti Bharat statement by Farooq Abdullah seeking Chinese help for the restoration of Article 370 and Article 35A which for a change was even slammed by the leader of J&K Congress. It seems a family character as his father Sheikh Abdullah too was arrested and put behind bars on 8 May 1965 post his Alzeria meeting  of 31 Mar 1965 with chinese Premier Chou En Lai for Chinese support for Independent Kashmir.
The pain of J&K Political families is understandable specially when the list of their deeds (under garb of 370) of corruption and injustice towards weaker section are being unearthed every day is mounting. Can we really  expect any thing of "Nation First"  from the very same people, who while in chair of Chief Minister's never hesitated to speak and act against security forces in favour of terrorists & their sympathiser on pretext of violations of human rights and acted as covert mouth peace of Pakistan and terrorist?
Farooq Abdullah while vacationing in London on New Year's eve, 1990 deliberately disregarded the attacks and intimidation of Kashmiri Hindus. No heed was paid to their ethnic cleansing, killing, rapes, and this led to exodus of approx 4 Lakhs  Kashmiri Pandits from Kashmir. In the year 2000 as Chief Minister of J&K, during one of his addresses to an international audience in Delhi, as a part of his reply to a query on possibility of creating a "Buffer Zone" along the Line of Control (LoC) by shifting the villages away since J&K has enough land, he ducked the issue by putting the ball in Central government's court by stating the reason as lack of funds. Farooq Abdullah had even made a statement that people of J&K don't consider themselves as part of Bharat.
Post March 2015 election victory Mahbooba's father, Mufti Mohammad Sayeed had publicly thanked Pakistan and terrorists for peaceful conduct of elections while sharing the dais with Prime Minister Narendra Modi. This was the same Mufti Mohammad Sayeed who as Union Home Minister in 1989 allegedly organized the abduction of his own elder daughter Rubaiya Sayeed to facilitate release of JKLF area commander Sheikh Abdul Hameed, Ghulam Nabi Butt, younger brother of the convicted and hanged terrorist Maqbool Butt, Noor Muhammad Kalwal; Muhammed Altaf and Mushtaq Ahmed Zargar.
All along during 30 years of terrorism in J&K the main stream political parties like NC, PDP and the Hurriyat enjoyed the "Industry status of Terrorism" and the two main political families lived lives of luxury, acquired properties abroad and educated their wards outside JK /in foreign countries. They kept terrorism alive and sucked funds for themselves including financial packages from Delhi to curb militancy. Up until recent years, J&K was getting 10 percent of the Central aid to the states inspite of J&K having only one percent of India's population. Corruption broke all records- case in point the 2001 Roshni Act Land scam worth Rs 25,000 crores for which a CBI probe has been ordered by the J&K High Court.
The anti national brigade is likely to continue dissent and covert support to terrorism/naxal as per the diktats of Islamabad and Beijing  and at the same time they will contest elections to delay the tightening of noose for their misdeeds.
A Bihar court on saturday ordered the filing of an FIR against former Jammu and Kashmir chief minister Farooq Abdullah over his recent remarks that allegedly insulted the Indian Army and soon it is expected that FIR against Mahbooba too likely to be filed. But they should be arrested immediately and put behind bars to prevent any such kind of seditious activities and misguiding the citizens specially when Bharatiya Defense forces are deployed face to face with China and Pakistan.
Bharat needs to seriously review its J&K policy. As also the nation should take seriously the nexus between China, Pakistan and Abdullah & Mahbooba brigade. Its time to shed the policy of appeasement and taking hard decisions to deal with the Gupkar brigade or any kind of their sympathisers who are not only a potential threat to peace in J&K but a serious national security threat.